For questions and further info about the playshop, contact Lars at +47 91383623 or lars@trom.no
About the Program
This is probably Arthur Hulls last world tour teaching his weekend playshop of drum circle facilitation. "Teaching without teaching" as he says himself. Drum Circle participants find themselves in interactive music making because you as a leader empower enthusiasm, creativity and good listening skills. Everyone can drum, the real surprise for many is that a random group of people ends up as a rhythm orchestra! Full of learning and growth opportunities for you, this might also be one of the most fun weekends you have participated in. We're pretty sure you will become a better leader. You will also witness other people's growth. The tender and beautiful space that arise when we share our selves and our spirit by stepping into something new, is something empowering, and essential human. Personal growth and new friendships are inseparable in this playshop.
The course is led by Arthur Hull and Lars Kolstad together, see person info further down.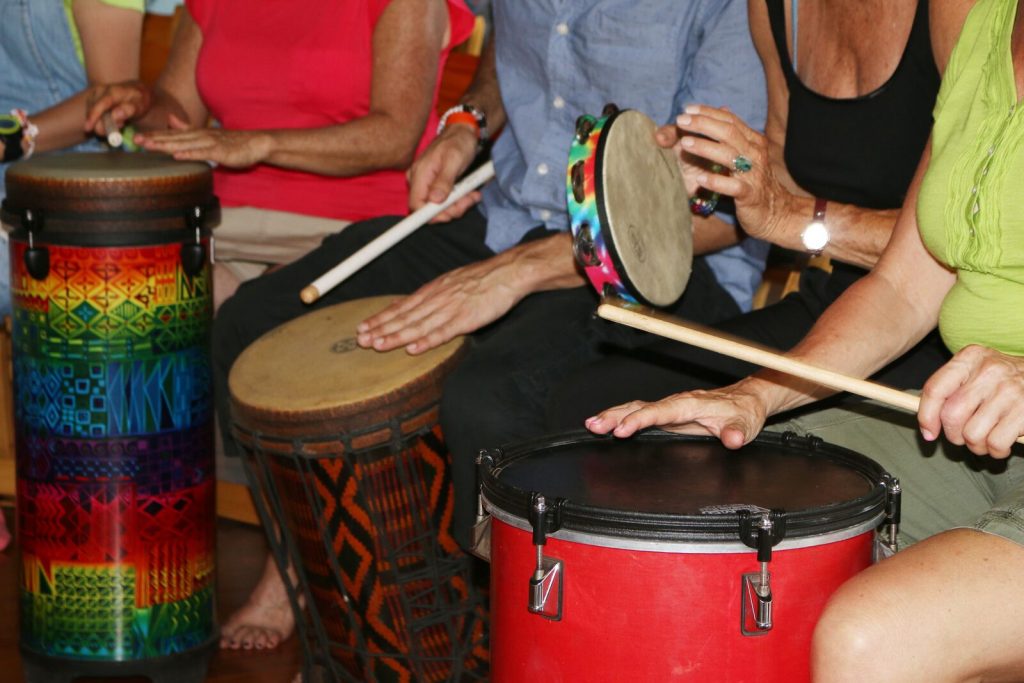 Play and explore different rhythm instruments
Learn powerful facilitation techniques and develop skills while gaining the confidence to successfully lead a rhythm event for a variety of diverse populations. Packed with information and hands-on experience both beginning and experienced facilitators will have plenty of opportunities for practicing new skills in a safe, supportive environment. Upon completion of this training, you will have the ability to begin facilitating rhythm events of your own!
Here is a short video from the training in Germany:
L earn to successfully Facilitate rhythm- based events
E xperience the power of community building through rhythm
A ctivate • Motivate • Empower! Rhythm for fun and learning
D iscover camaraderie and spirit playing music together
Program Content
Drum Call • Stop Cuts • Sculpting
In 20+ hours of training, participants will have extensive practice opportunities in the facilitation techniques and the skills needed to lead a drum circle event for a variety of populations. Group instruction and discussions combined with small group activities using movement, voice, musical instruments, and improvisational rhythm games. Critique and feedback are an important part of the learning process.
Opportunities for networking with other DCFs of many cultures, backgrounds and experience levels provides stimulation and inspiration to developing facilitators.
The Basic Facilitators' Playshop is a high-powered, dynamic experience. Participants must commit to the entire weekend and be ready to work hard and learn a lot — while having loads of fun doing so.
The book Drum Circle Facilitation: Building Community Through Rhythm of Arthur Hull is recommended reading before the course. Order it from Adlibris or Village Music Circles.
Upon registration you will recieve the workbook that you need to download to bring to the course.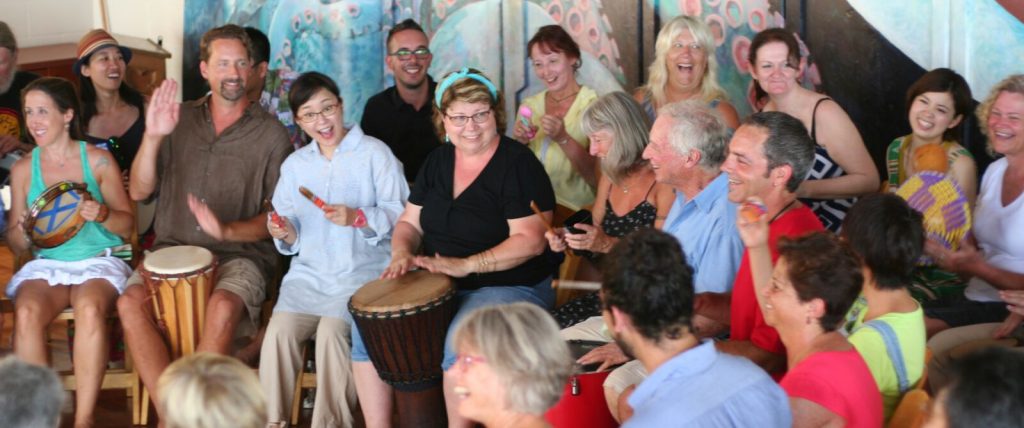 Tid og sted
Friday October 5th: 18:00 – 21:00
Saturday October 6th: 10:00 – 20:00
Sunday October 7th: 10:00 – 19:00
On Sunday October 7th at 17:00, we have a 1,5 hour drum circle for course participants and invited guests. You should stay for this drum circle that is part of the course if you can. We also know that there are some who come from far away and therefore must travel in the afternoon.
All days at Yogaskolen, Georgernes verft 12, 5011 Bergen (map).
Prices and Registration
(20% Early bird-discount till August 15th)
NOK 4800 for all training, use of instruments and your own workbook.
NOK 2400 for course returnees (maximum 15 seats).
NOK 3300 for students and others with low income.
You can attend through our webshop or by direct payment.
Buy from our webshop
Direct payment
Your place is confirmed with your full payment or a deposit of NOK 1000. Please mark the payment with your name.
Payments from Norway
Account Number (Sparebanken Vest): 36241531583
Reciever address: Trom Lars Kolstad, Vestre Fantoftåsen 50, 5072 Bergen
Bank details international payments
IBAN Number: NO7836241531583
SWIFT/BIC: SPAVNOBB
Address for recipient: Trom Lars Kolstad, Vestre Fantoftåsen 50, 5072 Bergen
---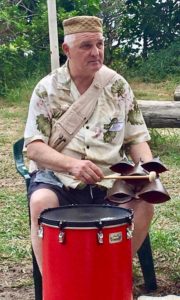 Arthur Hull
More info about Arthur Hull
---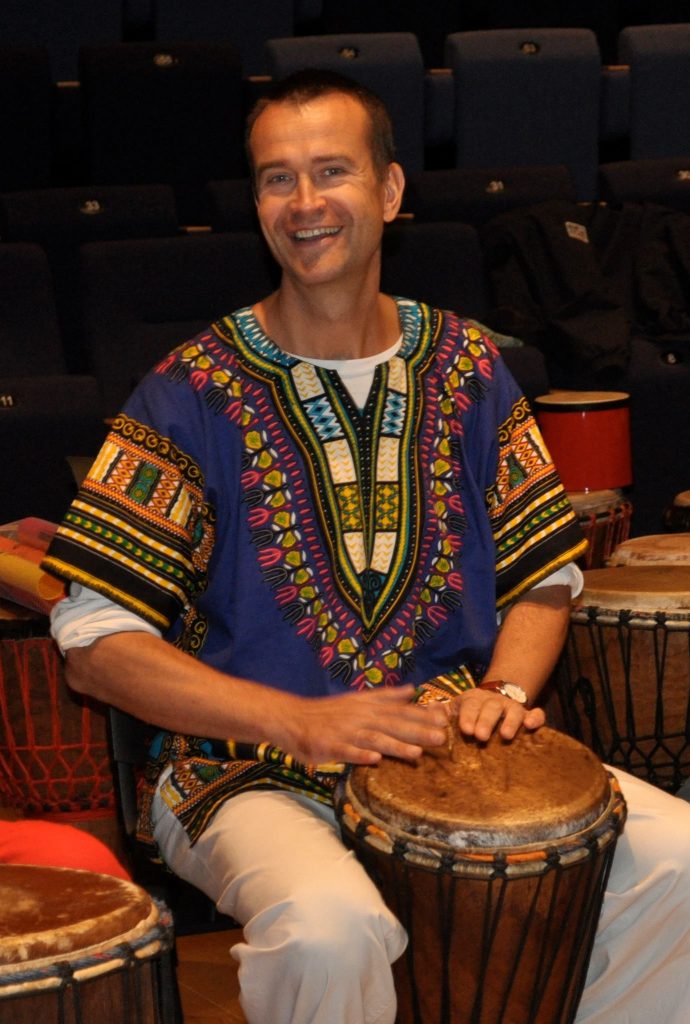 Lars Kolstad
Lars has been doing full-time drum circle facilitation since 2004, after attending Arthurs first Drum Circle Facilitation playshop in Oslo 2003. With a background as a music teacher specialized in rhythmical music pedagogy (RytmiskMusikkpedagogikk), he was already fairly familiar with groove as a tool for building community. But learning Arthur's philosophy of teaching without teaching opened many new doors to community building. Today he runs a versatile drum circle business, vistiting schools, kindergartens, well elderly homes, groups of handicapped, groups of mentally disabled as well as toddlers' groups and business executives.
He has undergone the Village Music Circles' mentor training twice, in Scotland and Hawaii, besides achieving a certification both as a drum circle facilitator and a drum circle facilitator's trainer. Lars also holds a master of science in music pedagogy, researching the phenomenons of the drum circle. Lars has produced Arthur's 5 earlier playshops in Bergen.
This is his first time as Arthur's co-trainer.