Har du spørsmål om kurset, ta kontakt med Lars på 91383623 eller lars@trom.no
Om programmet
Arthur Hull har i en mannsalder reist jorden rundt for å lære folk å lede trommesirkler – gjennom «teaching without teaching» som han kaller det. Gjennom årenes løp har flere tusen deltatt og lært å lede trommesirkler. Når du som leder får frem entusiasme, kreativitet og ikke minst lydhørhet hos deltakerne, trekkes de inn i en atmosfære av trygghet og forløsende samspill. Alle kan tromme – og til manges overraskelse kan en gruppe mennesker som tidligere ikke har spilt sammen, i løpet av kort tid omdannes til et pulserende rytmeorkester som lager sin egen musikk. Her kan alle finne sin plass, og utvikle seg i sitt eget tempo side om side med de andre deltakerne. Etter hvert er det musikken selv som viser vei og blir autoriteten i rommet.
Siden Arthur Hull nå har passert de sytti, har han trappet litt ned på reisevirksomheten, og samtidig lagt til rette for at også kommende generasjoner skal få lære å lede trommesirkler på en god måte. Han har derfor etablert og trent opp et globalt team (vi har også kommet sammen og lært av hverandre) til å ta over hans Drum Circle Facilitator's Playshop 3-dagerskurser. Arthur vil inntil videre fortsette å lede DCF's 6- dagers og 10 dagers mentortreninger.
Det globale teamet er håndplukket ut fra mange års nært samarbeid og oppfølging av Arthur selv. Vi består i dag av 14 sertifiserte DCF- trenere, til vanlig spredd over store deler av verden. Du kan lese mer om VMC Global her. I år ledes derfor VMC 3-dagers DCF playshop for første gang av Mikael Khei og Lars Kolstad. Begge har nylig ledet det sammen med Arthur Hull hver for seg, og begge har tidligere produsert 5 kurser hver med Arthur i Norge/Skandinavia.
Samtidig har de to også rik erfaring fra mange års praksis under norske forhold. Det er følgelig to erfarne ledere som gleder seg til å møte deg denne helgen på Voss!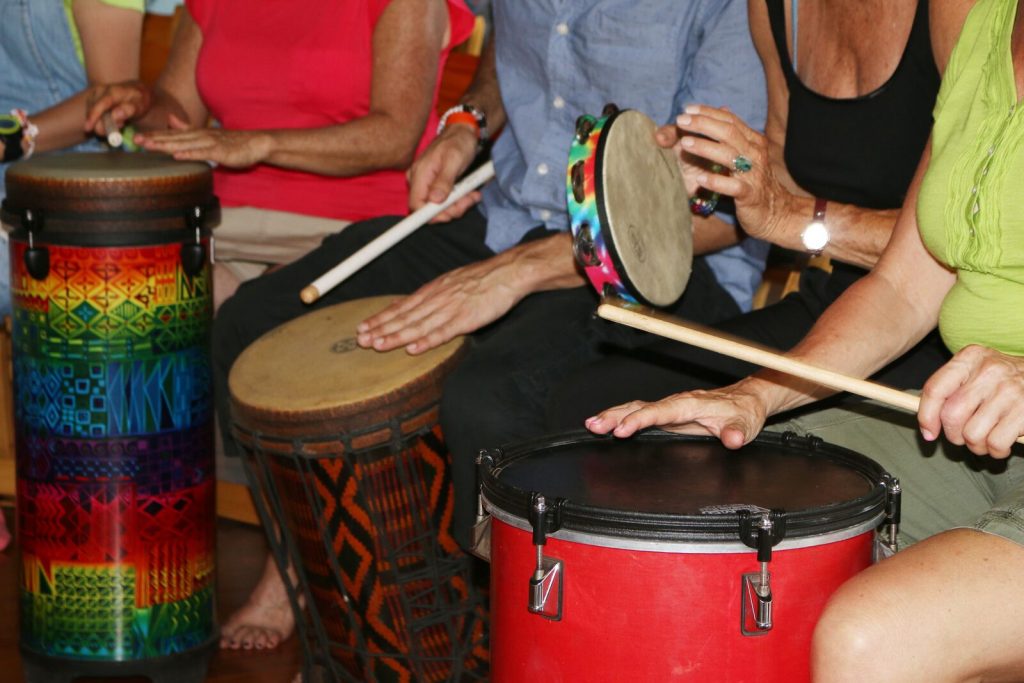 Denne playshopen blir full av moro, og kan samtidig bli den mest effektive og lærerike helgen du har vært med på! Du blir ganske sikkert bedre til å lede. Du får også være vitne til egen og andres personlige vekst. Det finstemte, vakre og sårbare rommet som oppstår når vi byr på oss selv og tør gå inn i noe nytt, er noe essensielt menneskelig som lodder dypere enn det rent tekniske ved kurset. Mange forteller også om nye vennskap de har med seg hjem i bagasjen etter en playshop.
Kurset ledes av Mikael og Lars sammen, se personinfo nederst på siden.
Spill og utforsk forskjellige rytmeinstrumenter
Lær å lede din egen miljøskapende trommesirkel (community drum circle). Kurset gir deg det du trenger for å bygge opp et miljø for tromming og rytmisk samspill. Vi utforsker hvilke grep som skal til for å komme i gang med å fasilitere rytmisk samspill. Det er ikke helt enkelt å oversette engelske "drum circle facilitation" til norsk, men rytmeforløsning er én mulig betydning, det peker på noe iboende og levende som rytmeforløseren hjelper frem.
Du kommer til å lære kraftfulle teknikker og utvikle egne ferdigheter, parallelt med en forståelse for hvorfor. Slik bygger du gradvis en trygghet til å lede rytmisk samspill med deltagere fra svært forskjellige miljøer. Programmet er fullspekket med essensiell kunnskap knyttet til den reelle treningen. Både nye og erfarne fasilitatorer vil ha rikelig anledning til å øve sine ferdigheter i trygge og støttende omgivelser. Etter dette kurset har du det du trenger for å starte med dine egne trommesirkler!
Ta deg tid til å se denne snutten fra vår venn og kollega John Fitzgerald:
L ær å lede rytmebaserte events med suksess.
E rfar kraften i å skape gode miljøer og kultur ved hjelp av rytme.
D elta gjennom å utvikle kameratskap og dele din spirit i samspillet.
E ngasjer, motiver og styrk deltagernes selvtillit.
R ytme for glede og læring!
Programinnhold
Drum Call • Stop Cuts • Sculpting
Med mer enn 20 treningstimer får du som deltager rikelig mulighet til å trene dine ferdigheter. Dette kommer godt med når du senere skal lede trommesirkler i ulike settinger. Vi bruker gruppeundervisning kombinert med aktiviteter i mindre grupper. Tilbakemeldinger underveis er viktig for læreprosessen, og du blir kjent med Arthurs verdsatte kritikkteknikk: What worked? What needs work? Fokuset ligger hele tiden på oppbyggende læring og vekst. Med bruk av musikkinstrumenter, bevegelse, stemme og rytmeleker blir dette en playshop mer enn en workshop.
Du får også en unik mulighet til å bygge nettverk med tidligere og fremtidige kolleger.
Kursdeltakerne vil ha ulik bakgrunn og erfaringsnivå, og dermed representere et rikt kulturmangfold. Dette stimulerer hele kurset – akkurat som mangfoldet deltagere i en trommesirkel stimulerer kreativitet og samspill.
Denne weekend facilitators playshop er en kraftfull og bevegende erfaring. Det er viktig at du som deltager forplikter deg til hele helgen og er innstilt på jobbing og læring samtidig som du har det gøy!
Boken Drum Circle Facilitation: Building Community Through Rhythm av Arthur Hull er anbefalt litteratur før og etter kurset. Den kan bestilles hos Adlibris eller Village Music Circles
Et par uker før kursstart vil du få tilsendt kursheftet som du kan kikke litt på før du tar det med til kurset.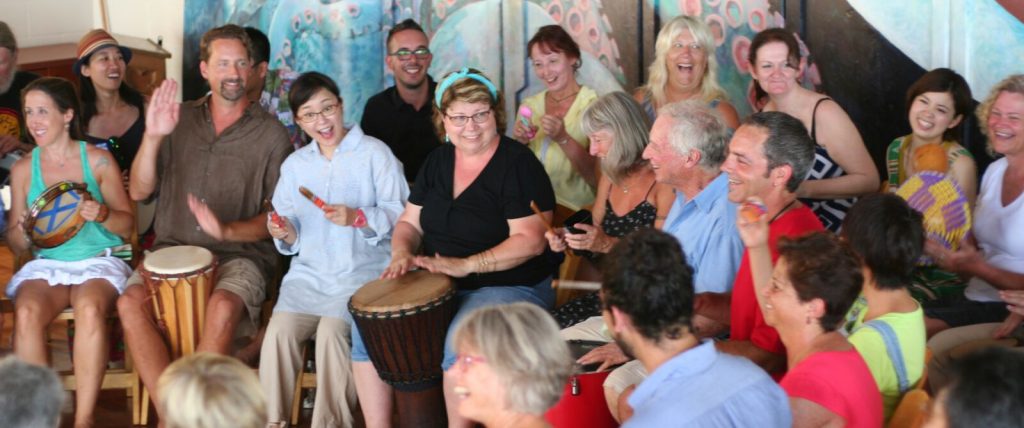 Ole Bull Akademiet på Voss
Endelig har vi lykkes med å finne det ideelle sted for vår playshop!
I dette innholdsrike huset finner vi den fantastiske Osasalen; et stort og lyddesignet musikkrom, til våre felles trommesirkler og vår Community Drum Circle søndag ettermiddag. Dessuten har vi flere grupperom, stor salong med sittegrupper, stor terrasse, koselig spiseavdeling og sengeplasser til alle i dobbeltrom og trippelrom.
Og hele dette huset har vi for oss selv – hele helgen!
Betydningen av å spille, spise og leve sammen gjennom helgen, kan ikke overvurderes. Det gir oss en unik mulighet til å forbli i «boblen» vi som fellesskap utvikler gjennom erfaringene vi deler. Det gjør det lettere å bearbeide og følge opp kursinnholdet, fortsette gode samtaler, finne noen å jamme med, eller gå og ta en powernap på rommet ved behov.

Dessuten er Voss som fjelllandsby veldig koselig, med handlegaten 5 minutter unna, Vossevangen med turstier og benker og med mektige og vakre fjellsider på begge sider. Dette gleder vi oss til!
Tid og sted
Fredag 11. okt: 18:00 – 21:00
Lørdag 12. okt: 9:00 – 21:00
Søndag 13. okt: 9:00 – 18:00
Alle dager på Ole Bull Akademiet, Strengjarhaugen 6, 5704 Voss (se kart nedenfor).
Åpen trommesirkel for kursdeltagere og inviterte gjester søndag 13. oktober fra 16:00 – 17:30. Du bør absolutt få med deg denne trommesirkelen som er en del av kurset! Av erfaring vet vi samtidig at de som kommer langveisfra kanskje må reise om ettermiddagen uten å få med seg denne.
Ankomst fra Oslo:
Alternativ 1: Tog fra Oslo S kl. 12.03 med ankomst Voss 17.33. Anbefales for utsikten og miljøet!
Alternativ 2: Fly til Flesland, ca 1 time. Bybanen til Nonneseter, ca 45 min. Lokaltog til Voss, ca 1 time 15 min.
Siste avgang fra Bergen sentralstasjon for å rekke kursstart:
16.15 med ankomst Voss kl. 17.30.
10 minutters gåtur fra Voss stasjon til OBA.
Pris og Påmelding
Kurset:
Kr. 4800 for all trening, lån av instrumenter og egen kursbok (Du er selvfølgelig hjertelig velkommen til å ta med din egen tromme + 1 shaker, 1 bjelle og 1 treinstrument for hyggens skyld).
Kr. 2400 for deltagere som har vært med på kurset før (begrenset til 15 plasser).
Kr. 3300 for studenter og andre med lav inntekt.
Det gis 20% Early bird-rabatt til og med 20. Juni.
Måltider og overnatting:
Vi har vært så heldige å få egen kokk som sørger godt for oss denne helgen. Dette inkluderer middag fredag, varm lunsj og middag lørdag, varm lunsj søndag, samt te/kaffe/frukt i alle pauser og frokost begge dager.
Ønsker du vegetar- eller veganmat, eller har spesielle matallergier, så merk av for dette i kommentarfeltet nederst på betalingsinfo-siden.
Pris måltider/overnatting – hele kurshelgen:
NOK 1640 per person for seng på trippelrom (9 sengeplasser).
NOK 1920 per person for seng på dobbeltrom (26 sengeplasser).
Du kan melde deg på gjennom vår nettbutikk eller sende betaling direkte.
Kjøp i vår nettbutikk
Direktebetaling
Du bekrefter plassen din med innbetaling av hele beløpet eller depositum på NOK 1000. Merk innbetalingen med ditt navn og hva innbetalingen gjelder. Oppgi samtidig tilleggsopplysninger om romvalg og matpreferanser.
Betalinger fra Norge:
Kontonummer i Sparebanken Vest: 36241531583
Mottakeraddresse: Trom Lars Kolstad, Vestre Fantoftåsen 50, 5072 Bergen
Bank details international payments:
IBAN Number: NO7836241531583
SWIFT/BIC: SPAVNOBB
Address for recipient: Trom Lars Kolstad, Vestre Fantoftåsen 50, 5072 Bergen
Personinformasjon Mikael og Lars
---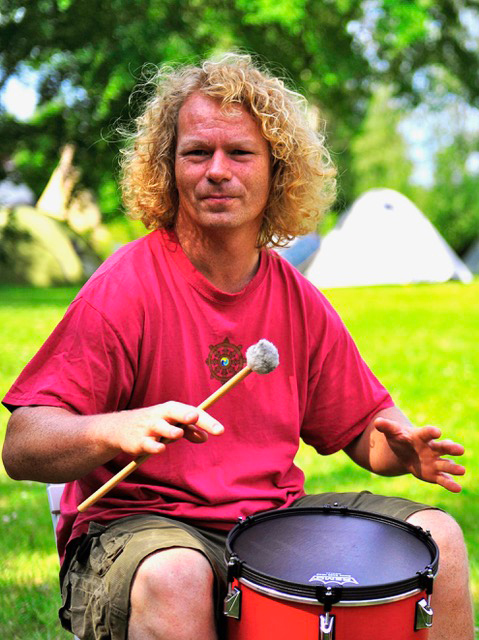 Mikael Khei
Mikael har brakt rytme, glede og entusiasme inn i verden siden han startet trommesirkler i 1998! Han har nå blitt en internasjonalt anerkjent rytme-fasilitator og har vært mentor på Village Music Circles sine kurs på Hawaii to ganger. Mikael er utdannet barnevernpedagog og lærer, han er også utdannet som taketina rytmelærer og danseterapeut innen biodanzasystemet. Mikael er spesielt glad i å knytte læring til reelle erfaringer.
---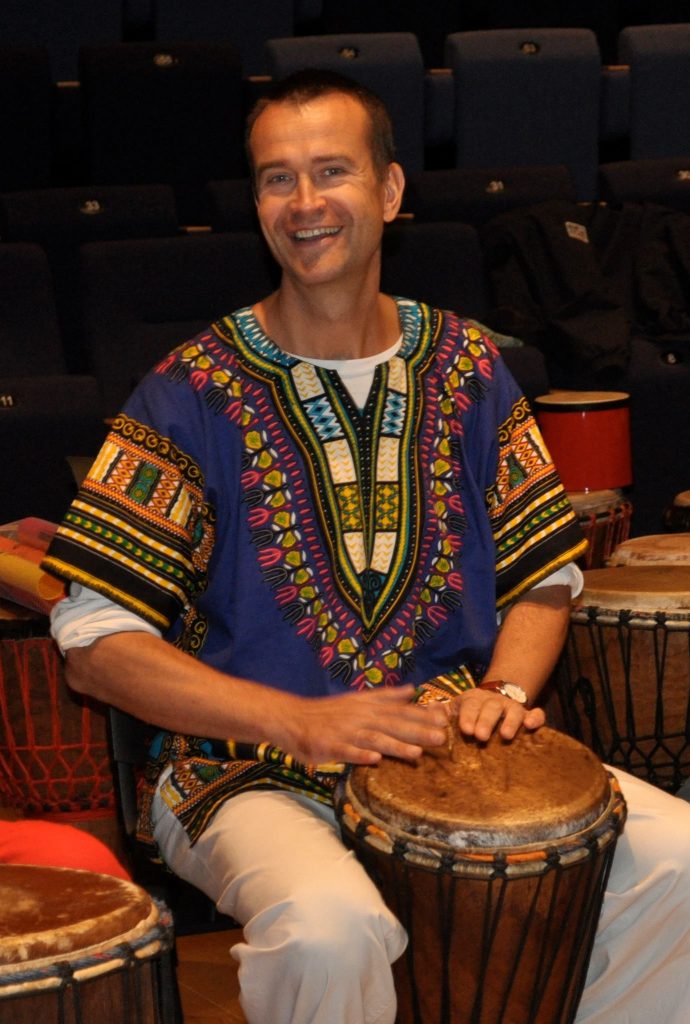 Lars Kolstad
Lars has been doing full-time drum circle facilitation since 2004, after attending Arthurs first Drum Circle Facilitation playshop in Oslo 2003. With a background as a music teacher specialized in rhythmical music pedagogy (Rytmisk Musikkpedagogikk), he was already fairly familiar with groove as a tool for building community. But learning Arthur's philosophy of teaching without teaching opened many new doors to community building.
Today he runs a versatile drum circle business, vistiting schools, kindergartens, well elderly homes, groups of handicapped, groups of mentally disabled as well as toddlers' groups and business executives.
He has undergone the Village Music Circles' mentor training twice, in Scotland and Hawaii, besides achieving a certification both as a drum circle facilitator and a drum circle facilitator's trainer. Lars also holds a master of science in music pedagogy, researching the phenomenons of the drum circle. Lars has produced Arthur's 6 earlier playshops in Bergen.