For questions and further info about the playshop, contact Lars at +47 91383623 or lars@trom.no
About the Program
For more than 20 years, Arthur Hull has been travelling around the globe inspiring people to lead drum circles through his "Teaching without teaching" concept. During this period, thousands of people have attended his trainings and learned how to facilitate drum circles in their own communities.
When you as a drum circle facilitator (DCF) empower enthusiasm, creativity and good listening skills, you create a safe atmosphere where interactive in-the-moment-music can happen between the participants. Everyone can drum, – the real surprise for many is that a random group of people in less than an hour turns into a well-functioning rhythm orchestra!
Now that Arthur Hull has turned 70, he will withdraw slowly from his widespread travel activity, and give way to a new generation of DCF trainers. He has now handed over the DCF 3-days program to a global team of experienced DCFs from around the world. They have all worked closely with Arthur through the years, and have been chosen and trained by him (and each other) in how to best deliver the program. Arthur will still do the 6-days and 10-days mentor trainings for some more years.
We are now 14 certified trainers in this team spread out around the world. (You can read more about us here). So for the first time, the norwegian 3-days DCF playshop will be run by Mikael Khei and Lars Kolstad together. They are both native norwegians with loads of experience in the field of drum circles. Mikael operating mostly in the east of Norway, and Lars mailnly in the western part, have on either side arranged six playshops for Arthur Hull since 2003, each one co-leaded their last one with Arthur. Together and on their own, Mikael and Lars have facilitated thousands of drum circles in populations as diverse as school kids, kindergartens, business executives, groups of handicapped people, well elderly homes, festivals, personal growth groups, groups of disabled, immigrants, musicians and music teachers. The two are really excited to share their experience with you, and to help you in your development as a drum circle facilitator.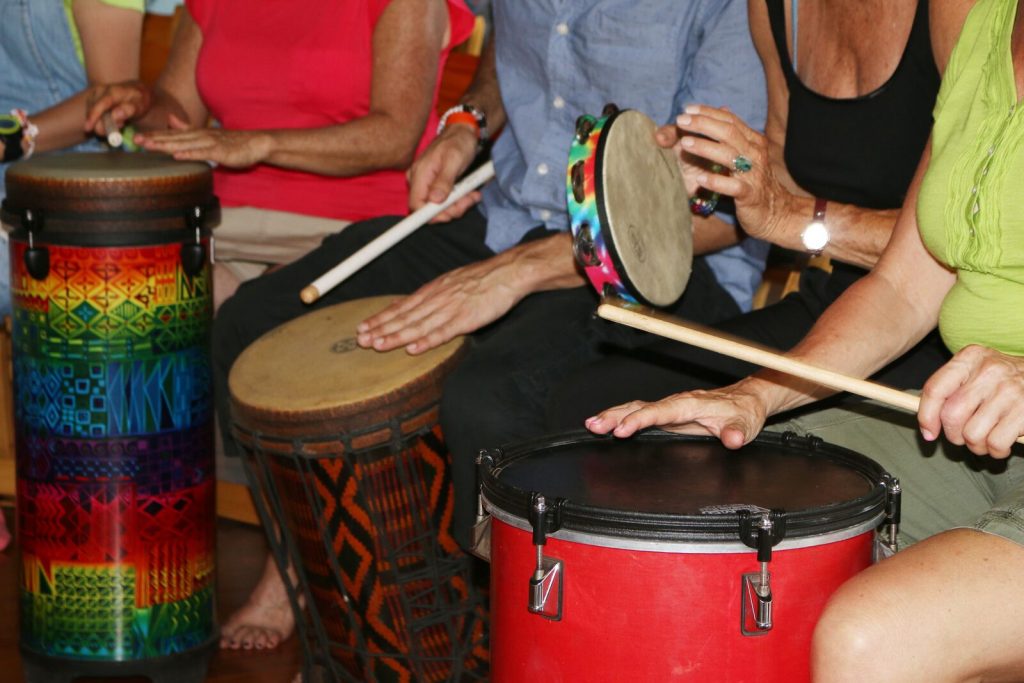 This playshop will be full of learning and growth opportunities for you, and it might also be one of the most fun weekends in which you have participated. We're pretty sure you will become a better leader. You will also witness other people's growth. The tender and beautiful space that arise when we share ourselves and our spirit by stepping into something new, is something empowering, and essentially human. Personal growth and friendship are inseparable core elements in this playshop.
This playshop will be lead by Mikael and Lars together. See their bios the bottom of this page.
Play and explore different rhythm instruments
Learn powerful facilitation techniques and develop skills while gaining the confidence to successfully lead a rhythm event for a variety of diverse populations. Packed with information and hands-on experience, both beginning and experienced facilitators will have plenty of opportunities for practicing new skills in a safe and supportive environment. Upon completion of this training, you will have the ability to begin facilitating rhythm events of your own!
Enjoy this short video from our good friend John Fitzgerald:
L earn to successfully facilitate rhythm- based events
E xperience the power of community building through rhythm
A ctivate • Motivate • Empower! Rhythm for fun and learning
D iscover camaraderie and spirit playing music together
Program Content
Drum Call • Stop Cuts • Sculpting
In 20+ hours of training, the participants will have extensive practice opportunities in the facilitation techniques and the skills needed to lead a drum circle event for a variety of populations. Group instruction and discussions are combined with small group activities using movement, voice, musical instruments, and improvisational rhythm games. Constructive critique and feedback are important parts of the learning process.
Opportunities for networking with other DCFs of many cultures, backgrounds and experience levels provides stimulation and inspiration to developing facilitators.
The Basic Facilitators' Playshop is a high-powered, dynamic experience. Participants must commit to the entire weekend and be ready to work hard and learn a lot — while having lots of fun doing so.
The book Drum Circle Facilitation: Building Community Through Rhythm by Arthur Hull is recommended reading before the course. Order it from Adlibris or Village Music Circles.
A few weeks before the training you will recieve the workbook that you need to download to bring to the playshop.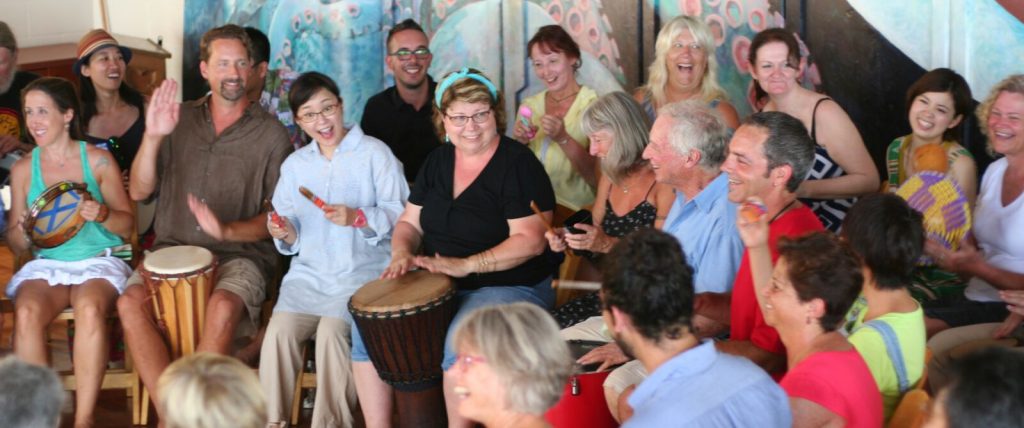 Ole Bull Akademiet at Voss – our venue!
Finally we have succeded in finding the ideal venue for our playshop! During the week days, this big house gives space to an academy for folk music. This means that the group rooms are well accommodated to acoustic music. This goes especially for the big Osasalen, in which we will have our main trainings, as well as a community drum circle Sunday afternoon.
We will also have plenty of hang-out space for the breaks, with seating groups, a big outdoor terrace and a cosy dining room in which we will share our meals. There are enough beds for all of us, located in double and triple rooms. And best of all; we will have the entire house on our own for the whole weekend!
The value of playing, eating and living together through the weekend, can hardly be over-estimated. This gives us a unique posibility to stay in the «bubble» we create as a community through our shared experience. Being able to process and follow up the content of the training, delve into a deep conversation with old or new friends, engage in a jam-session or simply go for a power nap in your bedrom when you need to.. Besides this, Voss is a charming mountain village, with beautiful mountains and valleys on both sides. You can also go for a walk by the Vossevangen lake, where you can walk the tracks and relax on a bench. We are very enthusiastic about this location, and we are really looking forward to this!

When and where?
Friday October 11th: 18:00 – 21:00
Saturday October 12th: 9:00 – 21:00
Sunday October 13th: 9:00 – 17:30
All days at Ole Bull Akademiet, Strengjarhaugen 6, 5704 Voss (map).
On Sunday October 13th at 16:00, we will have a 1,5 hour drum circle for course participants and invited guests. You should stay for this drum circle that is part of the training if you can. We also know that there are some who come from far away and therefore must leave in the afternoon.
How to get here:
From Oslo:
Alternative 1: Train at 12.03, arrives at Voss 17.36. Recommended for the view along the ride, as well as for our environment!
Alternative 2: Plane to Bergen (Flesland), 1 hour. Then Bybanen to Nonneseter station, 45 min. Then local train to Voss, 1 h 15 min. Latest departure from Bergen central station to be in Voss in time for the playshop: 16.15 (Arrival at Voss 17.30).
10 min walk from train station to OBA.
Prices and Registration
Training fee:
NOK 4800 for all training, use of instruments and your own workbook. (Of course you are more than welcome to bring your own drum + 1 shaker, 1 bell and 1 wood instrument for the joy of it).
NOK 2400 for course returnees (maximum 15 seats).
NOK 3300 for students and others with low income.
20% Early bird-discount till June 20th.
Meals and accommodation: We have been fortunate to have our own chef to cook for us this weekend. Meals include dinner Friday, warm lunch Saturday and Sunday, and dinner Saturday. Breakfast and tea/coffee/fruits for the breaks will also be included.
If you prefer vegetarian or vegan food, or have certain allergies; please let us know in the additional comment field at the bottom of the payment information page.
Meals and accommodation fee for the full training:
NOK 1640 for bed in triple room (9 beds in all).
NOK 1920 for bed in double room (26 beds in all).
You can attend through our webshop or by direct payment. Webshop payment recommended for quick reservation.
Buy from our webshop
Direct payment
Your place is confirmed with your full payment or a deposit of NOK 1000. Please mark the payment with your name.
Payments from Norway
Account Number (Sparebanken Vest): 36241531583
Reciever address: Trom Lars Kolstad, Vestre Fantoftåsen 50, 5072 Bergen
Bank details international payments
IBAN Number: NO7836241531583
SWIFT/BIC: SPAVNOBB
Address for recipient: Trom Lars Kolstad, Vestre Fantoftåsen 50, 5072 Bergen
About Mikael and Lars
---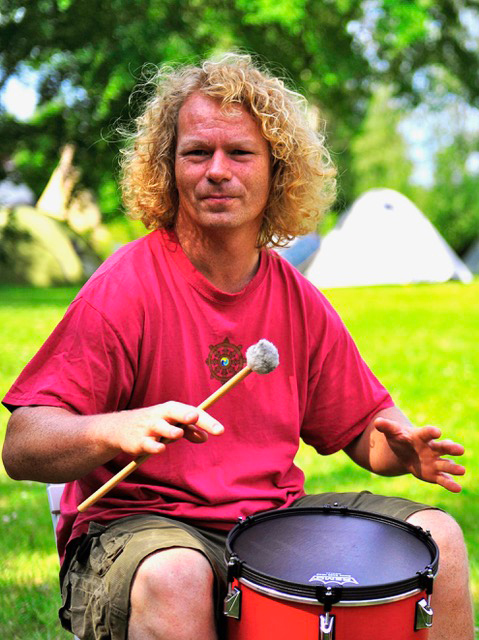 Mikael Khei
Mikael was for many years the drum-circle pioneer in Scandinavia. He is still working to make facilitated drumcircles known in all parts of society, but now happily together with Lars Kolstad in Bergen and other colleagues. Being one of Village Music Circles global trainers, Mikael has of course a long story with Arthur Hull. It includes more than 15 weekend trainings and 5 week-long training programs going all the way back to 2001.
Mikael came into music and drumming as an adult. In an African drumming workshop, something clicked and a decision to work with rhythm was made on a deep level. If you are new to drumming when you come this DCF training, you can be assured that your teacher knows what it's like.
The instinctive connection that happens when drumming together, is one of the carrying elements when Mikael facilitate. As a teacher, he has a signature skill of bringing awareness to the moment, and by that helping the group, as well as individuals to recognize learning. In "Arthurian" terms this is called teaching without teaching.
To the trainings, and to the international community Mikael brings complementary knowledge and qualifications. He works with "kids at risk councellor" and as a "special needs teacher" in High School. He is also certified as a Taketina rhythm teacher, Biodanza teacher and NLP master practitioner. You are in safe hands.
---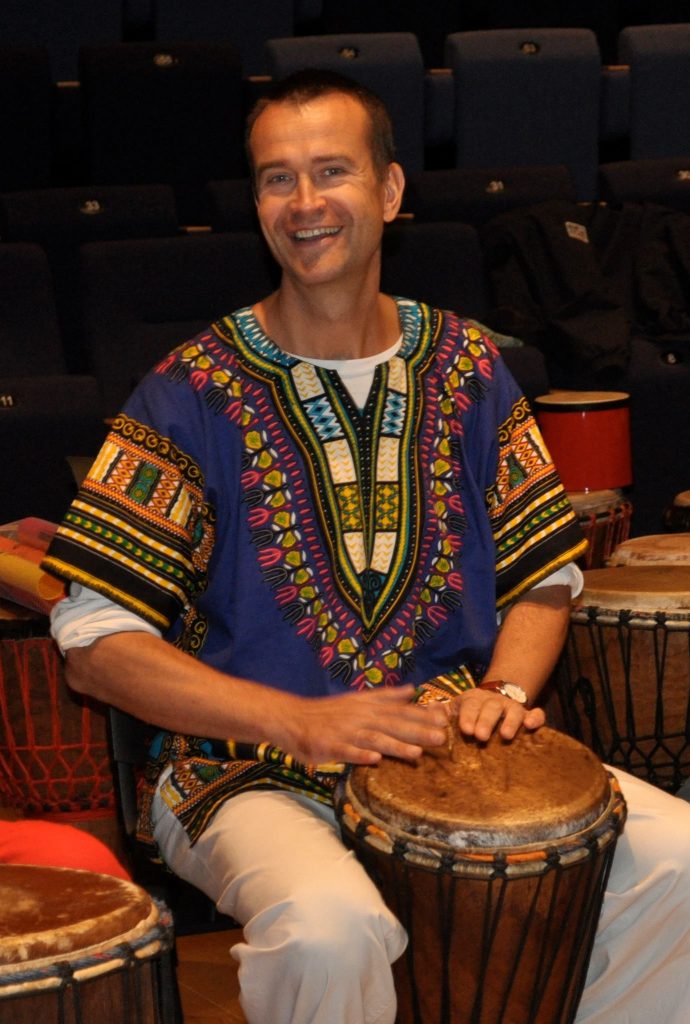 Lars Kolstad
Lars has been doing full-time drum circle facilitation since 2004, after attending Arthurs first Drum Circle Facilitation playshop in Oslo 2003. With a background as a music teacher specialized in rhythmical music pedagogy (Rytmisk Musikkpedagogikk), he was already fairly familiar with groove as a tool for community building.
Yet learning Arthur's philosophy of teaching without teaching opened many new doors to community building.
Today he runs a versatile drum circle business, vistiting schools, kindergartens, well elderly homes, groups of handicapped, groups of mentally disabled as well as toddlers' groups and business executives.
He has undergone the Village Music Circles' mentor training twice, in Scotland and Hawaii, besides achieving a certification both as a drum circle facilitator and a drum circle facilitator's trainer. Lars also holds a master of science in music pedagogy, researching the phenomenons of the drum circle.
Lars has produced Arthur's 6 earlier playshops in Bergen.